Company
OSATO International,Inc.
NAME

OSATO International,Inc.

ADDRESS

1956 Inatomi Ono-cho Ibi-gun Gifu 501-0501 Japan


TEL

+81-585-34-3130

FAX

+81-585-34-3880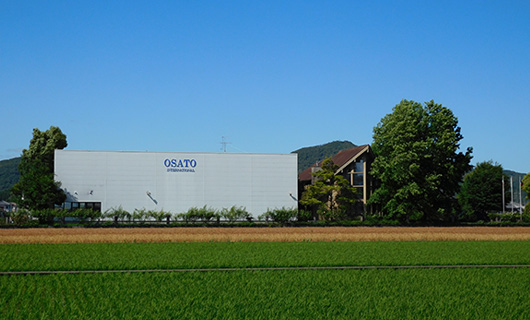 Simultaneous Release in Japan, Europe and U.S.A.
Fermented Papaya Preparation has been widely researched by many scientists in Europe, U.S.A. and Japan since 1990. It is a fermented food made from natural plant without any side effects, whose research results have been presented in many international conferences or journals.
In 21st century, the effects of FPP have been established more firmly with numbers of clinical data from more advanced researches. Meanwhile, we had requests from many scientists who were involved with FPP researches in U.S.A. and Europe to start selling FPP as soon as possible in order to support human health and reduce national medical costs.
In response to such requests, we incorporated OSATO INTERNATIONAL Inc. as a manufacturer of FPP(Fermented Papaya Preparation)and FPP was released simultaneously in Europe, U.S.A. and Japan on March 6, 2002. It is now sold under the brand name of Immun'Âge.
OSATO INTERNATIONAL Overseas business partners
Europe
ADDRESS

OSATO DISTRIBUTION WORLD Ltd
Ibex House, Baker Street, Weybridge
Surrey KT13 8AH, United kingdom
U.S.A.
ADDRESS

OSATO U.S.A. Inc.
3450 Cahuenga Blvd. West, Unit 508 Los Angeles,CA
90068-1591 U.S.A.

Toll-Free

(1)877-672-8611

TEL

(1)310-231-1090

FAX

(1)310-231-1089

URL
France
ADDRESS

Osato Distribution France
236 Chemin des Bioux
38320 Brie et Angonnes, FRANCE
Italy
ADDRESS

Named S.p.A.
Via Lega Lombarda 33
20855 Lesmo MB

TEL

+39.039.69.85.01

FAX

+39.039.69.85.030

URL

E-MAIL
UK
ADDRESS

OSATO DISTRIBUTION WORLD Ltd
61-65 Baker Street Weybridge,
Surrey KT13 8AH, United Kingdom

URL
Spain
ADDRESS

Salengei SL
Via Augusta, 48
08006 Barcelona Spain

TEL

+34 932 530 587

URL

E-MAIL
Singapore
ADDRESS

Osato Asia Pacific LLP
298 Bukit Batok St 22, #03-28
Singapore 650298
Republic of Singapore

TEL

+65 8328 8810

FAX

+65 6563 0661

E-MAIL
Canada
ADDRESS

NUTRIPUR INC
86 Boulevard des Entreprises Local 101
Boisbriend, Quebec
CANADA J7G2T3

URL

E-MAIL